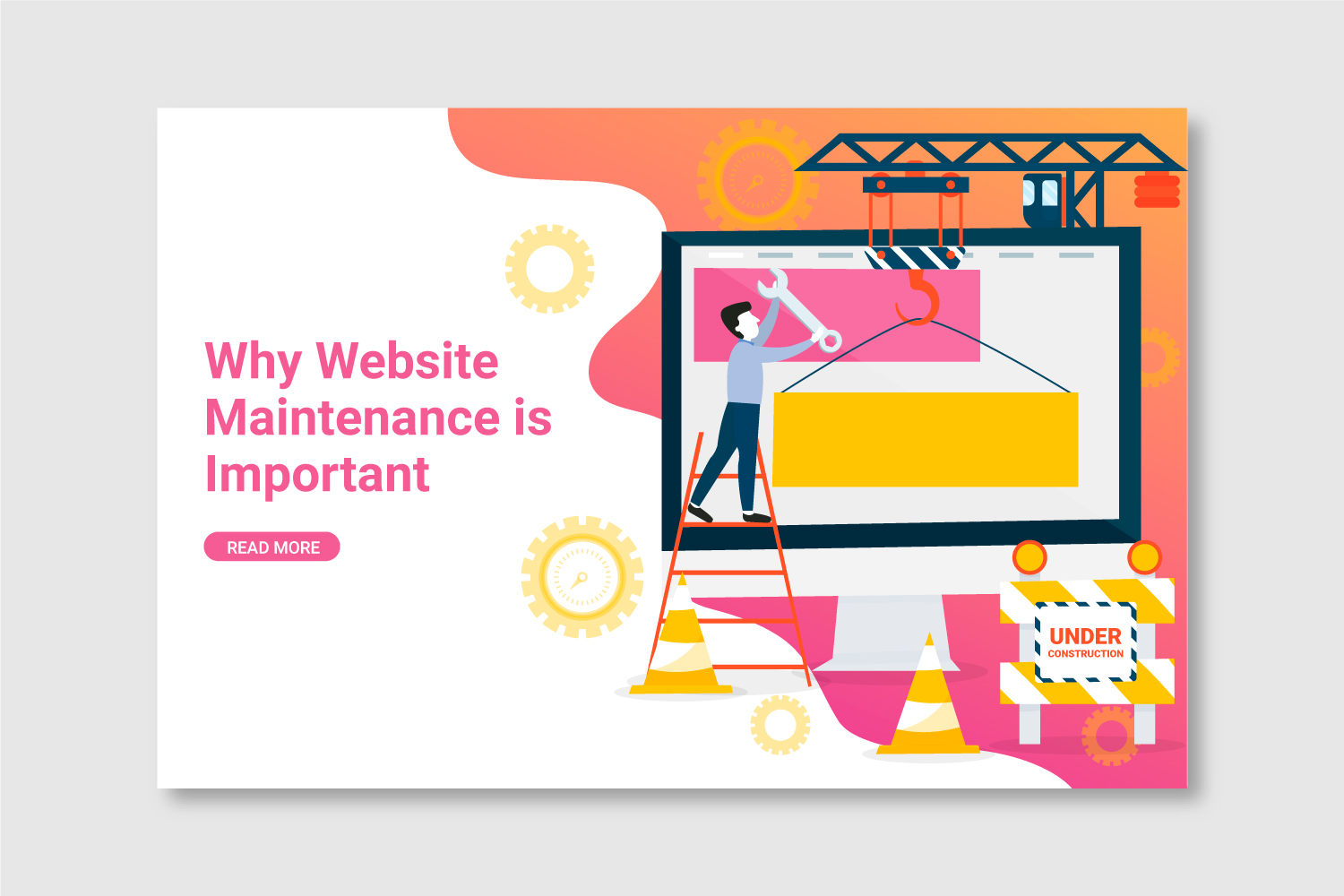 Your website is more than just the virtual representation of your company. When it comes to online marketing, it does the majority of the heavy lifting. As a result, website maintenance is one of the most important success factors for your company.
Many business owners recognise the importance of having a website in order to capture a portion of the online business. So they take the first step, they build a website, and they even set some goals, such as being on the first page of Google.
What person doesn't? Everyone creates a website in order to increase their business.
Reason #1: Reflects the quality of your company
Some may question the quality of your service if your website does not appear modern and professional. Not checking your website on a regular basis and performing regular maintenance tasks may result in issues that you are unaware of, but your customers are. And this could cost you money.
As a result, you must ensure that your website presents your company in the best light possible.
Reason #2: Ensures a positive client experience
It is critical to keep up with the current web design trends and double-check that your website adheres to them. The most important one right now is to have a Mobile Responsive website.
According to statistics, more than 34 percent of consumers utilise a mobile device while purchasing or researching a product or service. People will have a poor experience if your website is not Mobile Responsive, since they will have a tough time navigating around to get all of the information they require.
Other difficulties may develop if you do not monitor and maintain your site on a regular basis, such as broken links, contact forms that do not send emails, or worse, a website that does not operate at all.
Believe me. We've seen it all: a customer who came to us because their website was down, and after further investigation, we discovered that their website had ceased operating more than 3 months earlier and they were unaware.
Reason #3. Performance of a website
According to several research, more than 40% of visitors abandon (leave the website) if it takes more than 3-4 seconds to load. How much might this cost your company? A website's performance is impacted by a variety of variables. Let's have a look at some of them.
The website's construction quality
Themes are not used by reputable web design firms since they include a lot of unneeded built-in functionality that will slow down your website.
Hosting Service Provider
As the saying goes, "cheap is not really always good." And this is definitely NOT the place to think about saving money. A reputable hosting provider makes a significant difference in the performance and loading speed of a website.
Website maintenance on a regular basis
As new information is added to the website, such as new content, plugins, comments and etc. All these might slow down the overall website performance, which includes loading speed.
As a result, it is always good to optimise your website database, remove useless plugins, erase all spam comments and etc. A  variety of things that should be included in a website maintenance service
Reason #4: Enhances the security of your website
This is a significant one. Congratulations on making it this far. Continue reading because this topic is critical. There is no doubt that WordPress is the most popular CMS / Website Platform available, and there are numerous advantages to using it. Being popular, on the other hand, draws a lot of attention.
The same reason why Windows has a much higher infection count than MacOS or Linux. It should go without saying that you should always, always, ALWAYS use a difficult password, but not 123456.
The majority of WordPress websites are hacked because of outdated software. People who develop a website and never touch it again, which is exactly what we described previously in this post.
Furthermore, according to WebARX, third-party plugins make 98 percent of WordPress websites insecure. So it's not WordPress's fault; it's the nature of how WordPress was designed to work, with the platform itself plus many plugins providing different features and capabilities.
So the important takeaway is to attempt to stay up to current on website updates. You should check your website on a regular basis as part of your website maintenance routine, and if there are any updates, those orange warnings, don't ignore them, do the upgrades, because the security of your website depends on it.
Reason #5: You can both protect your possessions and save money.
Yes, you read that correctly. In the long term, performing website maintenance activities can save you money. More specifically, I'm referring about making as many backups of your website as possible.
You may be hacked, or you may inadvertently remove some critical files. As a result, it is critical to back up your site on a frequent basis.
We encourage daily backups because a problem might occur at any time, and we also provide this service through our website maintenance packages.
Making regular backups of your website can help to minimise damage when an issue arises. With a single click, you can restore all of your files and have your site back up and running.
Many outstanding hosting companies can take frequent backups of your website; but, you can never go wrong with having your own set of backups in a different location, just in case.
Are you looking for help with your web design project?
Get in touch today to see how we can help.
Contact Us